| | |
| --- | --- |
| | Click to return |
---
Batthou-jutsu


The skills under this classification are :
Note : Batthou-jutsu is simply the art of drawing the sword from the scabbard. Though it seemed simple, getting it perfect would be hard.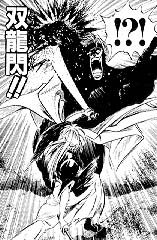 Sou-ryu-sen is actually an "insurance" move in case the normal batthou-jutsu did not strike the opponent.
A normal batthou move is executed, then, immediately the scabbard is swung at the opponent, aiming mainly at his hips or hands. Even if the initial cut missed the opponent, the scabbard should be able to hit the opponent which should be enough to immobolise him.
Even if the first cut hits home, the second strike makes sure that the job's finished.
Variant :

Sou-ryu-sen - Igazuchi Twin Lightning Dragon Flash :
This is the most unique move in the Hiten Mitsurugiryuu. Instead of using the blade to strike first, the entire sword, with the blade still sheathed, is used to perform the first strike. The opponent's reflexes would respond, trying to parry the attack, which is expected.
The opponent, at this time, would realise the trick, but the user would've drawn his sword and strike, leaving no time to react.
This move resembles that of lightning, unexpected & deadly.

My comments : no comments.....

Top

Hi-Ryu-sen : Strike of the Flying Dragon


This move is the only one under batthou-jutsu which can be used long range.
The sword is held with the left hand, as usual, then the user twists his body round 360°. The sword would then "fly" out of the scabbard due to a force acting on it. This attack targets the opponent's vulnerable parts, like between his eyes.

My comments : should you miss, then you'll be left defenceless..

Top