| | |
| --- | --- |
| | Click to return |
---
Batthou-jutsu


The skills under this classification are :
Ku-zu-ryu-sen : Strike of the Nine Headed Dragon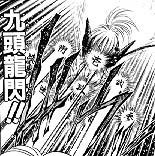 This is actually an upgrade of Ryu-sou-sen. Instead of attacking at random places, Ku-zu-ryu-sen attacks the human body's 9 basic points :
Head
Left Shoulder
Right Shoulder
Left Wrist
Right Wrist
Left Hip
Right Hip
Pelvic Area
Chest

By Striking this nine areas simultaneously, the user would be able deal a devastating blow to the opponent. An unstoppable/unblockable move, Ku-zu-ryu-sen strikes fear into the hearts of people who witnessed it.
IMPORTANT : This skill was created to allow the students to discover the actual succession technique by themselves.

My comments : what can i say ? This is the killer move !

Top


The succession technique is not actually taught, but it's discovered by the students themselves how to counter Ku-zu-ryu-sen. The only way to counter it is to perform a batthou-jutsu which can be faster than Ku-zu-ryu-sen. This is done by putting out the left leg at the last possible moment while drawing the sword.

Note : The sword will be held in the left hand. Basic Batthou-jutsu stance is like this :

The left leg would be behind the right, in order not to cut the left leg..

This sudden movement will increase the power and speed of the cut, thus creating the succession technique.
However, to get it right, one must have the strong willpower to live on in order to calculate the exact moment to put out the left leg.

Note : Even if the cut performed misses, it is possible to perform a Sou-ryu-sen type of attack. My comments : one hell of a move....

Top